We offer Bayliner, Caymas, Vexus, and Yamaha boats. If you are new to boating, Bayliner offers a perfect balance of features and price. If you are looking for bass boats, recreational fishing boats, or a fish and ski boat, we recommend Caymas and Vexus. Yamaha jet powered boats come recreation ready, fully equipped for fun. You will find a wide variety of boats showcased in our large indoor showroom with a dedicated team of experts that can help you find the boat of your dreams.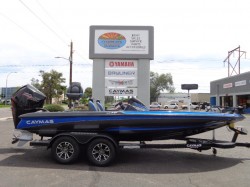 2021 Caymas CX19, Mercury 225 Pro XS V-8. On hold.
2021 Caymas CX 19 powered by a Mercury 225 Pro XS V-8.  The CX 19 is 19 feet 9 inches long with a 96-inch beam and comes standard with Sea Star hydraulic steering, fiberglass storage... View Details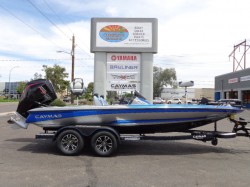 2021 Caymas CX20, Mercury 250 V-8, Garmin Electronics Pkg. Sold.
2021 Caymas CX 20, 20 feet and 4 inches in length with a wide 96-inch beam, and powered by a Mercury 250 Pro XS V-8.  This CX 20 is equipped with stainless steel prop, padded front... View Details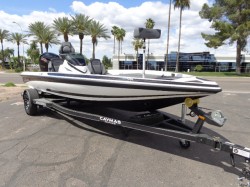 2020 Caymas CX 18 SS, # 104C. On hold.
2020 Caymas CX 18 SS, Mercury 150 Pro XS, $39,943 plus freight and dealer prep. On hold. View Details